Digital marketing strategy has become a key element of any modern business. Businesses and customers are always online. Your objective is to reach them with your products or services first and get an idea of their online behavior such as: where do they spent most of their time?
So how can you create an agile digital marketing strategy. Where do you start? How do you ensure it integrates with your response channels? In this article I provide a step by step guide to your digital marketing strategy.
What is A Digital Marketing Strategy?
As a business, one of your goals is to get as many prospective buyers as possible from your online presence, convert them to leads and finally to sales. To achieve this objective you will come up with a series of actions aimed at turning this objective into a reality. This series of actions is what is known as digital marketing strategy.
Why Do You Need to Invest in a Digital Marketing Strategy?
1. Business Competitiveness
A good digital marketing strategy will help you stay ahead of your competitors. This is because it helps you to easily keep track of your digital marketing performance and adjusting to meet your customers' needs when necessary. As part of this strategy you will also be able to channel your efforts into finding out what your competitors are doing, their weaknesses and strength and how to use them to get ahead of competition.
2. Marketing Analytics
Digital marketing tools will provide you with analytics which gives you insight into your customers' online behaviors. Such insights may include growth of your online audience and how they engage with your content. This is key as you will not roll out marketing campaigns blindly since you have data which gives you predictable trends. Therefore this will highly improve your conversion rates as your campaign targets the relevant audience
3. A High Return on Investment
A good digital marketing strategy will help you to reap great benefits while inputting a reduced effort. This is because most digital marketing techniques may require minimal effort to be implemented but at the same time expose your brand to millions of users. A good example is email marketing. For this technique most of its platforms are very cheap or even free but still offers a great platform for leads generation. Other techniques like video marketing require substantially a small effort. Once they go viral, then you reap almost 99% ROI!
4. Boosting your brand image
If well implemented, this strategy will ensure consistency of your brand across the different marketing channels. Your customer's expectations is to have a uniform and seamless interaction with all your touch points. This in turns boosts their confidence in your brand identity.
Also if you are sharing valuable information across your digital channels, consumers find this useful and will tag you as a reliable brand. In addition, search engines will easily prefer your site and hence rank you highly in the search engine results pages.
5. Improved Customer loyalty
A good marketing strategy will help you discover what your customers want. Every customer wants to rally behind a business that makes them feel appreciated. How will they feel appreciated if you do not understand their needs?
The other aspect is about the greater customer engagement that a digital marketing strategy offers. The modern customer is well conversant of what your competitors are doing. Therefore if not engaged consistently they will opt for your competitors. Constant engagement on digital channels ensure their questions are answered on time, they are updated on any hitches in good time and informed about other incentives such as discounts whenever available. In turn, your customers feel valued and they will keep coming back for your services.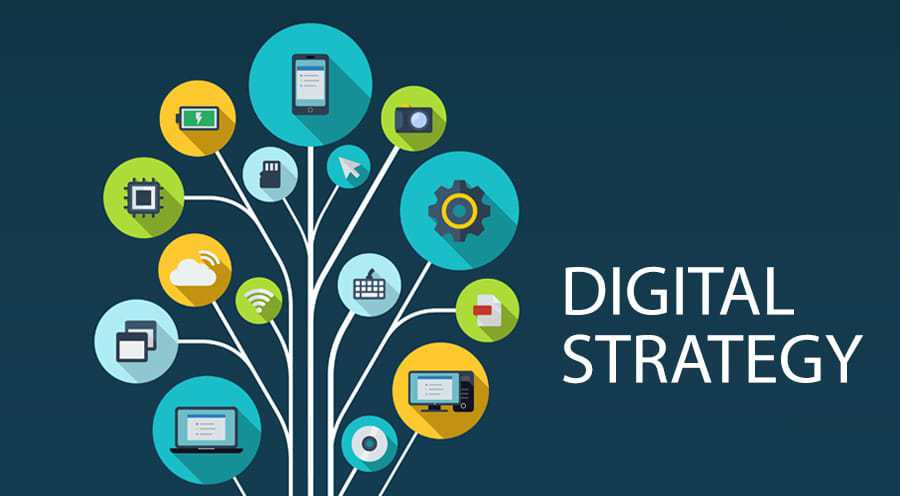 Top Digital Marketing Strategies and Techniques
The digital marketing scene keeps evolving as businesses continue to scramble for their share of the online market. What may have worked for you last year, may not work for you this year. It's therefore important to rethink your marketing strategy. To stay ahead of the competition you also need to stay updated on the critical digital marketing trends being used by most businesses which include:
Is your website content valuable, relevant, up to date and consistent with your brand? This is key to improve customer loyalty and attract new customers. As a result you boost your revenue earnings due to higher conversion rates.
The modern day consumer is hungry for valuable information. Ensure that they can relate and connect with the information on your site or blog. With the increased use of mobile technology, ensure your content is mobile friendly and can be displayed effectively on the different devices and their operating systems. If you are thinking about scaling your content marketing efforts your going to want to read our blog post on: Everything you need to know about hiring content marketing consultants & strategists.
2. Email Marketing
This marketing tool has been proved very effective in generating leads and driving high conversion rates. The advantage of this platform is that most are free and therefore can easily be adapted without a costly budget.
3. Artificial Intelligence
For a long time AI has been thought to be effective only in science related fields. In the recent past, we have however seen AI become an accepted concept in the business world. The use of chat bots is now spreading wide as companies use it to improve customer service by ensuring customers are provided with solutions anywhere and anytime . AI makes it possible for your customers to constantly engage with your brand by offering that which human beings may not offer; an all-time customer engagement.
4. Marketing Automation
As a business you want to spend less time in repetitive tasks and instead focus on improving other aspects of your business. Marketing automation brings about work optimization whereby you input a reduced effort for a greater outcome. This in turn will increase your revenue as your expenditure is reduced, for example on human capital. Marketing automation is a feature which has been implemented in most modern CRMs. As a result, they help businesses to run cost-effectively.
5. Search Engine Optimization (SEO)
At the core of SEO is authenticity. Online consumers are looking for authenticity in your content. Do not forget that your content is targeted at real people. A sincere and authentic online approach is what will make you stand out of the competition. According to a survey done by Steckla, 86% of customers attested that authenticity heavily influences their support for your product or service.
It is therefore important you stay updated on the newest SEO developments. Some current trends include your search engine results per page (SERP) being determined by how secure your site is considered by a search engine; HTTPS vs HTTP.
6. Search Engine Marketing (SEM)
In this form of marketing, you increase your SERP ranking using paid advertising. The advertising options may include: Google ads and advertising on the various social media: Instagram, Facebook, LinkedIn, Twitter etc.
7. Remarketing
In this technique, you target customers who had previously shown interest in your product but didn't buy at that time. To achieve this you use cookies which has proved to be an effective method. Conversion rates will likely be high since the customer had already interacted with your product.
8. Influencer Marketing
This involves identifying individuals who have an influence over a certain platform to use them to push your product to your consumers. They could be individuals who have a huge number of followers and therefore likely to create high impact conversations with you target audience. You therefore need to identify and engage them to promote your brand or service.
9. Video Marketing
The use of videos for marketing is a trend which recently has gained a lot of popularity. The reason being consumers found videos more engaging than text. As business you can take advantage of this opportunity by creating explainer videos to show case your latest products. You can maximize the Call to Action (CTA) feature to request prospective customers to visit your site for detailed information or purchase of your product. It's also easier to share videos via social media thus increasing your brand awareness.
Digital Marketing Strategy Plan: Blueprint of the Actions
Below is a blueprint of the actions a business needs to undertake so as to achieve its set digital marketing campaign objective.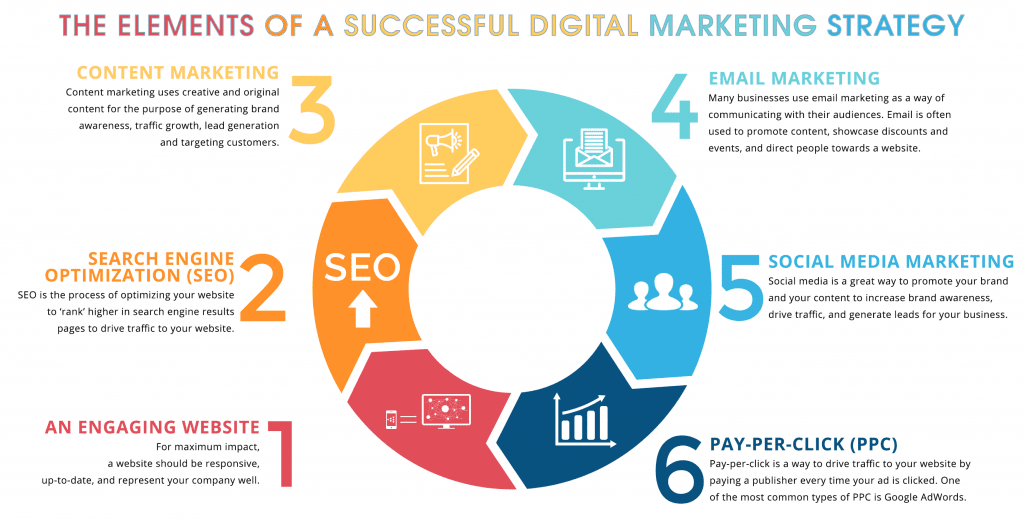 Related Post: 15 Must-have Traits in Every Marketing Strategist
1. Define your goals
Your digital marketing goals should always align with the strategic goals of your business. For example, as business your objective may be to increase revenue by 30%. You or your digital marketing consultant may therefore set your objective to 70% more lead generation via your website than last year.
After identification, set your Key performance Indicators (KPI). The KPI should be measurable. You need to know how to measure it and have the right digital marketing tools to do so. Measuring the effectiveness of each digital strategy will differ from business to business. The key thing is to ensure whichever way you do it, you measure.
2. Do analysis of past strategies
Analyzing your past strategies will shed light into your success and what you failure points have been. Choose a time period over which to do you analysis. Preferably it should be the same length as the one you anticipate your current strategy to run. For example, a month, a year and so on.
Include your competitor's marketing strategy in this analysis too. Look into SEO elements such as what keywords they have been using to drive the highest website traffic, the different types of traffic: organic or paid. The goal is to find out how aggressive they have been. Keep asking yourself also, if there could be anything that you may have left out.
3. Build your buyer personas
Who is your audience? Until you get this question right, no matter how good your digital marketing strategy is, you will not achieve your objectives. Do a research, survey or interview your buyer persona who acts as a representative of your ideal customer. Do not make assumptions; gather real data to ensure your marketing strategy doesn't take the wrong direction,
The information you will gather depends on your business. Such information may be based on
Location: Use your website traffic to get an idea where your customers are located
Age: May not be relevant for all businesses, Use your customer database to drill down to this
Challenges: Find out from your customers and customer representatives what challenges they face
Priorities: What's most important to you customers in relation to your business? Speak to them and find out.
4. Define your means
What is your budget? Which channels will you use? Who will be involved? These questions are key in identifying the resources you will need for the period your strategy will be running. At this stage you should decide for example, whether to use paid promotions. You can also allocate a budget specifically for every digital channel you intend to use. This is the point to also make decisions on whether to cut down budgetary allocations for channels which have not yielded the best results and transfer the allocation to better performing channels. You can find all about digital marketing prices and packages here.
For human resources, assess the capability of your current team and make decisions on whether to hire new people and if your budget will accommodate a new hire. Other decisions include in house implementation or outsourcing.
Review your digital channels also and clearly outline what each of them intends to achieve. This is the time to decide whether to do away with some and bring on board new channels.
5. Create the strategy plan
After you have carried out all the above actions, it's now time to create a cohesive strategy document. The document will map the series of actions expected to be carried out according to the research you will have done. Define the time frame through which these activities will be carried out and create a calendar for your marketing campaigns.
6.
Measure
Make this a continuous exercise so as to keep track of the performance of your digital marketing strategy and make changes when necessary.
In conclusion, a digital marketing strategy is an important element of achieving your digital marketing goals. If well implemented, it can boost your profitability through increased revenues and improved efficiency of resource utilization.
10
problems
your Digital Marketing Strategy Could be Facing:
Related Post: What is a Digital Marketing Strategist
1. Losing your market share to your competitors
It is easy to lose your market share to your competitors if you do digital marketing without dedicated resources or you just do it in an ad-hoc way. As there's no existing digital marketing strategy, you will run your marketing campaigns blindly. This means your competitors will have a competitive advantage over you since they've already researched and established the market place dynamics.
2.
You don't have a direction
Most companies without a digital strategy lack a clear goal on what they expect from digital marketing. Without a goal you may not put in enough resources since you do not have a clear objective and you will also likely not review your analytics to get key insights about your customers.
3.
Your knowledge of online audience or market share is limited.
If you haven't researched about the demands of your online customers and the dynamics of the market place, you will be thriving on mere guesswork. This may lead to underestimation of the demands of your customers. These dynamics greatly vary from traditional channels. There are online tools which you can use to find out what online searchers are looking and see how many customers you could reach via the different social media platforms.
4. Your online value proposition is weak
A powerful online value proposition helps your online service to stand out as it's tailored to address the needs of the different customers. This in turn encourages customer engagement with your brand and improves customer loyalty.
5. You do not know your target online customer well
Tools like Google analytics will give you an idea about how many site visits you get over a period of time but will rarely tell you how the visitors feel about your site. You will have to analyse further by use of website customer review tools to get an idea of your customer's sentiments while interacting with your site
Time and money wastage through duplication
6.
You do not know your target online customer well
You may have allocated enough resources but you could be facing duplication of tools or effort in the different units within your marketing organization. An example would be using different marketing agencies to perform same online marketing tasks.
7. You efforts to stay ahead have been fruitless.
It could be that your current digital marketing strategy hasn't placed your business where you wanted it to be. It's time to review its weaknesses and map a different strategy or make key changes
8. Lack of enough resources: budget or people
If you resources are strained, you will lack specific specialized e-marketing skills needed to help your business thrive against any emerging competitive threats. A digital marketing strategy will help you with resources analysis and therefore it becomes easier to map what resources are needed to effectively carry out your marketing campaigns.
9. Your digital marketing strategy is not integrated
Your strategy needs to provide a seamless and unified experience to your customers across all marketing channels. In most companies, digital marketing activities tend to be completed in silos by a specialized digital marketer sitting alone which turns out to be ineffective. The ideal scenario is to have these marketing activities integrated with all response channels and traditional media. This way, once the digital transformation is completed it will be easy to adopt to your marketing plan and as well integrate with your business as usual activities seamlessly.
10.
You fail to optimize
It's sad that many companies will have good analytics but no one is tasked to review them! With a good strategy you will be able to progressively carry out reviews and focus on a continuous improvement of the site's key aspects such as user experience and social media marketing.
FAQs on Digital Strategy:
What is digital strategy? Digital strategy is a plan that outlines how a business or organization will achieve its goals through the use of digital technologies and channels. It encompasses various aspects such as marketing, customer engagement, analytics, and more.
Why is digital strategy important? Digital strategy is vital in today's connected world. It helps businesses stay competitive, reach a broader audience, enhance customer experience, and achieve measurable results.
How do I create a digital strategy? Creating a digital strategy involves understanding your target audience, defining clear goals, selecting the right digital channels, creating engaging content, and regularly analyzing and adjusting the strategy.
What are the key components of a digital strategy? Key components include target audience analysis, goal setting, channel selection, content planning, SEO, social media marketing, email marketing, analytics, and continuous improvement.
How does digital strategy differ from traditional marketing strategy? While traditional marketing focuses on offline channels like print and TV, digital strategy leverages online platforms and technologies to engage with customers and achieve business objectives.
Can small businesses benefit from a digital strategy? Absolutely! Digital strategy offers scalable solutions that can be tailored to businesses of all sizes. It allows small businesses to compete effectively and reach audiences that were previously inaccessible.
What are the common challenges in implementing a digital strategy? Challenges may include keeping up with technological advancements, managing data privacy, aligning with overall business goals, measuring ROI, and ensuring consistent branding across all digital channels.
How do I measure the success of my digital strategy? Success can be measured through various metrics such as website traffic, conversion rates, customer engagement, lead generation, sales growth, and overall ROI. Regular analysis and adjustments are key to ongoing success.