Content marketing improves your SEO efforts in multiple ways. It helps you drive more organic traffic, increases your rankings, and earns top-notch links. Above all, it gives you the opportunity to position yourself as an industry authority and build trust with your target audience.
Now, no matter if you're just starting out with content creation or you've been investing in it for quite some time now, it's always a good idea to build a digital content strategy that will back you up.
Build Reader Personas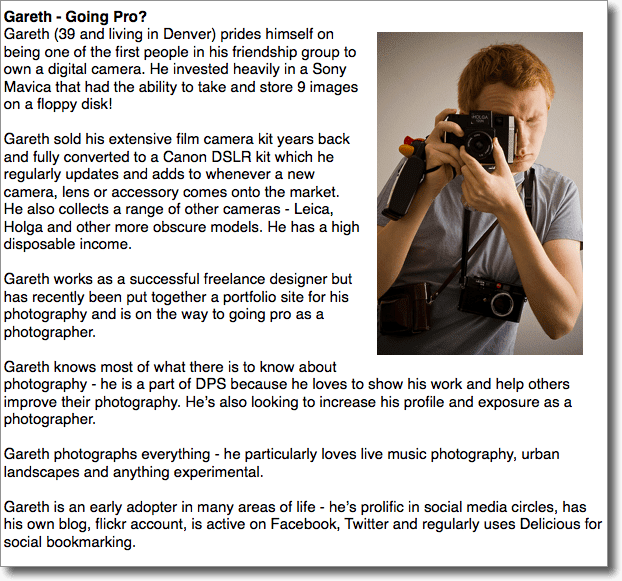 (Sample Reader Persona – Source)
Before you launch a blog, you need to know who you're creating content for. Simply put, not knowing your audience, you won't be able to choose relevant topics and set the tone of voice that resonates with them. Remember, gone are the days where you could write spam content for the sake of SEO. While SEO still matters (we'll get back to it later), you now need to focus on creating user-centered content.
Start by collecting customer data. Your goal is to get to know your target audiences, understand their hopes, goals, problems, fears, values, habits, and so forth. This will help you write content that brings value to them, helps them solve real-life problems, and encourages them to keep coming back to your website.
That's where you should create reader personas. Start by creating just one persona that depicts your most typical customers. Over time, as customer data keeps accumulating, you can segment your target audiences and create multiple personas for each segment.
Now, your reader persona needs to answer the who, what, why, when, where, and how. For starters, collect your customers' demographics data that tells you more about your customers' age, location, race, gender, family status, education, employment status, etc. Then, dive deep into their psychographics to learn more about their goals, hobbies, lifestyles, interests, fears, insecurities, and so forth.
Establish your Brand Voice
(Brand Voice Chart – Source)
Each online marketer needs to establish their brand's tone of voice they will use consistently across all marketing channels, be it email, social networks, or blog posts. Just like brand colors, typography, or visual content, your voice is a critical part of your branding strategy. It makes you recognizable and unique. Namely, if your audiences cannot pick your voice out of all that online noise, maybe you're not even worth listening to.
Now, when choosing your brand voice, there are several factors to consider – your target audiences, your industry, and your brand's traits and personality. Your tone of voice could be passionate, using power words to evoke emotions. It could also be quirky, challenging the status quo. Finally, you could also choose an authoritative tone of voice that tells customers that you take them seriously and helps you position yourself as an industry leader.
Set Clear Goals for your Content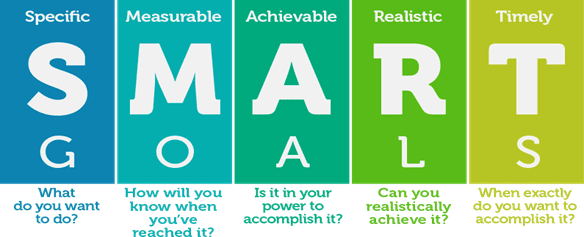 (Smart Goals)
Each type of content has a specific purpose and function. Precisely because of that, you need to set clear content marketing goals before you start blogging. According to CMI, 79% of online marketers create content to maximize brand awareness. Others use it to retain customers, generate leads, boost website traffic, increase leads, and grow industry credibility.
Your goals dictate your digital content strategy. For example, if you want to boost brand awareness, you will use informative and helpful content like whitepapers, ebooks, checklists, infographics that will grab their attention. Those customers in the evaluation stage will want to know how you can solve their specific problems. That's where FAW pages, product webinars, and case studies can help. Finally, to maximize sales, you will need to offer live demos, free trials, free quotes, etc.
Another immensely important purpose of setting clear goals lies in the fact that they directly impact your choice of content marketing metrics. That's why you need to resort to the famous SMART approach, meaning your goals should be:
Specific

Measurable

Achievable

Relevant

Timely
Choose the Right Content Formats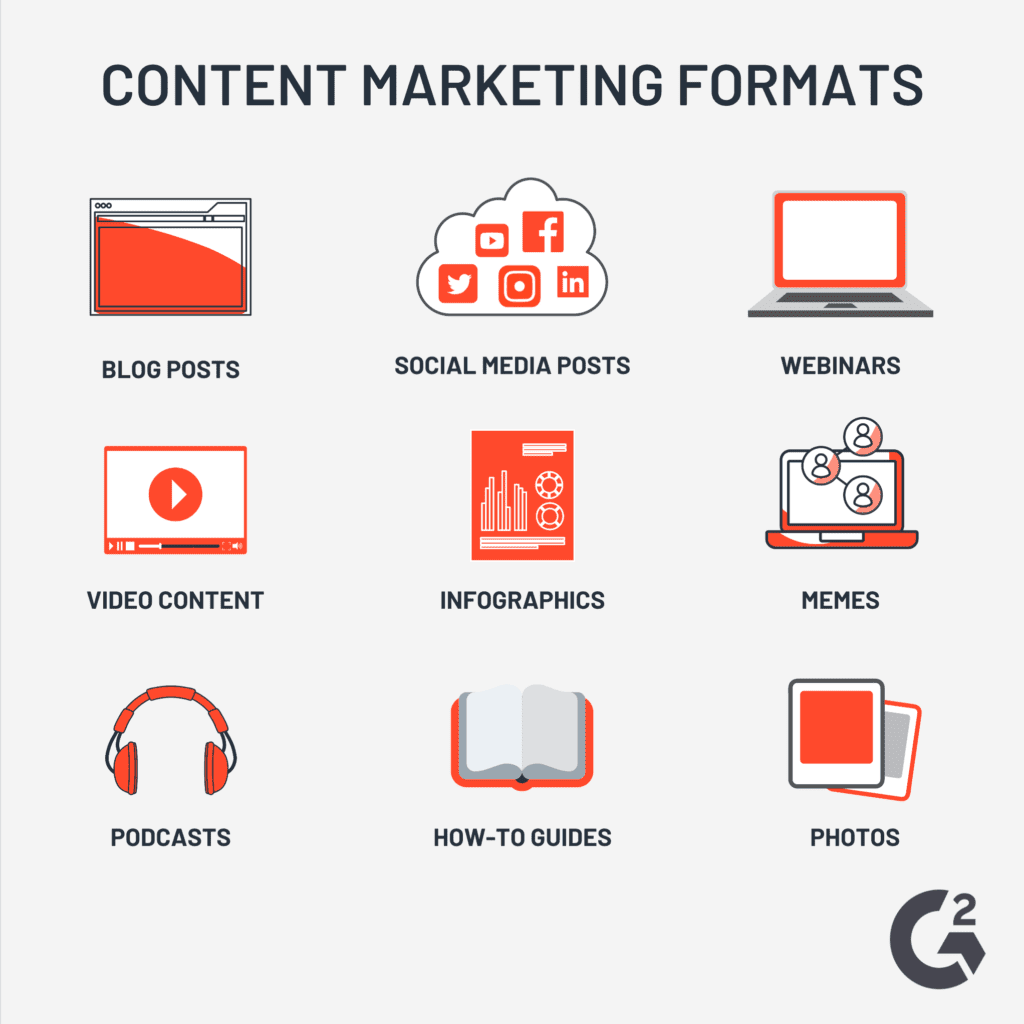 Your target audience has different preferences. While some of them prefer textual content, others are visual learners. Some people even focus on audio content they can consume on the go. Therefore, to appeal to wider audience groups and maximize your content results, you should diversify your digital content strategy and experiment with different types of content. Here are a few content types to get you started.
Blog posts are the most popular content format. However, to get the most out of them, you first need to publish them consistently. Never spam your articles with a bunch of keywords or promotional links. While this worked a while ago, today, both users and search engines expect you to deliver high-quality articles.
Create in-depth and data-backed articles that provide your readers with actionable tips and valuable information. It is also recommended that blog posts be somewhere 1,000 and 3,000 words in length, as longer content delivers greater value to readers and performs better on Google.
Above all, make blog articles readable. Break them up into smaller paragraphs, use headings, and insert images to make textual content easier to read.
Visual content stays one of the key digital content trends in 2020. And, that's where infographics dominate. Online users love them because they visualize a bunch of data in a more engaging and compelling way. Strong visuals and colors help them memorize data faster.
For you, this is a great opportunity to create a highly shareable and linkable content format everyone will love. Just like with any other content format, infographics need to be packed with valuable tips and up-to-date facts. Keep the sentences short and clear. Choose legible fonts and font sizes. Add lots of white space to make it easier to track.
Colors should be pleasant to the eye, typography legible, and sentences short and clear. Focus on key information and make sure information flows logically logical. Use lots of white space to make the content easier to follow. A great tool to create infographics is Visme.
Ebooks are one of the most powerful lead magnets – a kind of content customers can download for free in exchange for their email address. They educate readers about the latest industry trends and let you boost your industry credibility.
Ebooks should deliver value to your target audience. They need to provide relevant statistics, insights, ideas, and advice. They should also contain high-quality illustrations, photos, charts, depending on your industry. Similar to fiction works, your ebook needs to be properly formatted and easy to follow, while information needs to flow organically.
Case studies are a form of customer testimonials, where you can tell your customers' stories and show how they solved particular problems by working with you. Now, case studies can be in different forms, from blog posts and infographics to downloadable files in PDF. For example, you could write a research-based case study that tells a single client's story and pack it with relevant data, charts, statistics, and customer testimonials.
Did you know that 51% of marketing professionals say video content delivers the best ROI? That's not surprising at all, given that 72 hours of video are uploaded to YouTube every minute. Moreover, video content is highly attention-grabbing and engaging. It evokes emotions and inspires users to share it online with their friends. Above all, it helps users retain the information and memorize your brand.
Some of your users would rather listen to you than read your lengthy case study, whitepaper, or article. They want to consume your content on their mobile devices, wherever they are, be it a coffee shop, a gym, or a bank. Studies say that there are over 700,000 podcasts and half of the population has already listened to them. You just need to choose hot topics to discuss, invite authoritative guests, invest in quality internet connections and microphone and you're all set.
Sure, this post is to short for me to list and explain every type of content out there. If you want to experiment with some additional forms of content, here are a few additional ideas that may serve as your sold starting point:
Comprehensive guides

Interviews

Press releases

Quizzes

Email newsletters

In-house research

Timelines

Whitepapers

Resources

Vlogs
Optimize for Search Engines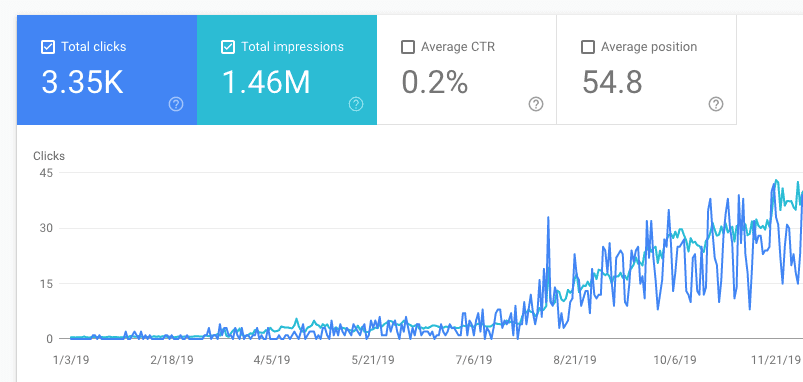 (My SEO Results in 2019)
Content marketing and SEO go hand in hand. Without SEO, your content would be invisible in search engines. However, optimizing content for Google doesn't mean spamming it with a bunch of keywords. This would only harm user experiences and even get you penalized by Google.
For starters, research the right keywords. Those should be the phrases your readers are searching on Google. Now, there are several kinds of keywords. Exact-match ones have a greater search volume, but they are highly competitive. On the other hand, long-tail keywords have a lower search volume, but they're less competitive, meaning you will be able to rank higher in the SERPs.
When optimizing for keywords, focus on identifying search intent – the reason why users are conducting searches. Now, there are several types of search intent. Informational one means that users are looking for certain facts and data. Users conducting navigational searches want to know exactly what site they want to visit, while those with the commercial intent are looking for products to purchase.
When choosing keywords for your blog posts, opt for conversational and natural keywords that don't compromise user experiences. Question-based keywords are also valuable for voice searches that have been gaining momentum over the past few years. Apart from traditional keyword research tools, like SEMrush, Moz Keyword Explorer, KWFinder, you could also use tools like Google's People Also Ask, Answer the Public, and Google Trends to identify valuable long-tail keywords.
Build a Content Calendar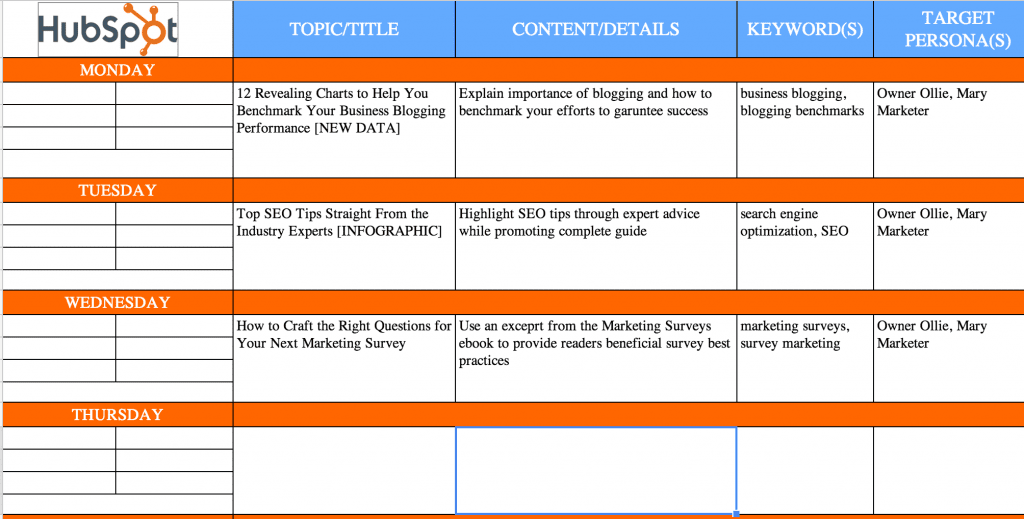 (Sample Content Calendar)
To maximize your content performance, you need to increase its consistency. You should plan your content every month. That's where a detailed content calendar will help you. It needs to emphasize what kind of content you will create, what your audiences are for each piece of content, as well as to set strict deadlines, publishing dates, and so forth. By planning your content creation and promotion strategy reasonably, you will increase your blog's consistency, eliminate any ambiguities, and boost user experiences.
Promote your Content
Now that your piece of content is live, you need to promote it. There are numerous places where you should promote your content.
Start by promoting it organically on social networks. Sharing your posts on Facebook, Twitter, or LinkedIn will definitely increase its visibility and reach and maximize its traffic. To make the most out of social networks, you could also create a Facebook or LinkedIn group. Building and nurturing an engaged community is an amazing way to promote your content and yet, deliver value to your target audiences.
Email marketing is still one of the most powerful ways to promote content. It grabs people's attention and encourages them to go to your blog post by building stronger relationships with them. However, the way you use email marketing has changed. Your subject line needs to be strong, while your email body should be personalized and clear, emphasizing the benefits of your content for readers. You could also segment email lists to provide them with relevant content only.
Link building lets you boost your site's authority, market to wider audiences, and increase your website traffic. Start by publishing high-quality articles on authoritative blogs in your industry. Apart from guest blogging, there are many alternative ways of link building, such as:
broken link building

link reclamation

contributing to HARO (Help A Reporter Out)

commenting on relevant sites

registering on industry-specific business directories
Measure Outcomes
Finally, you need to track the performance of your content marketing strategy. Like I've mentioned above, the choice of metrics depends on the goals you've set. For example, if you want to increase brand awareness, you will focus on metrics like website traffic, content downloads, referral links, page views, etc. On the other hand, for measuring engagement, track your blog comments, social likes and shares, and backlinks. If your goal is to generate leads, focus on email subscription rates, conversion rates, form completions. You can measure the majority of these KPIs directly from Google Analytics.
Over to You
Content marketing is a great way to boost industry authority, engage customers, and build stronger relationships with them. However, to achieve the desired goals, you need to plan your content strategically, from targeting the right audiences to choosing content promotion channels. And, I hope these tips will help you.
How do you create online content? We'd like to hear from you!